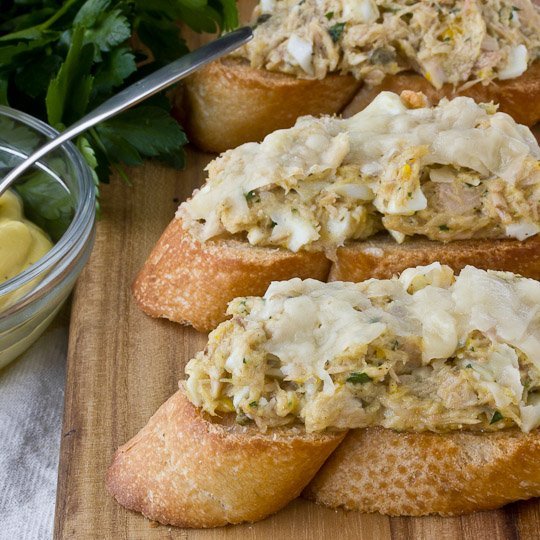 Tuna Melts with Olive Oil Mayonnaise & Parmesan
Author:
Ingredients
For the olive oil mayonnaise:
1 egg yolk
1 tablespoon lemon juice
1 teaspoon Dijon mustard
1/2 teaspoon apple cider vinegar
1/2 cup extra-virgin olive oil
1/4 cup plus 2 tablespoons canola oil
For the tuna melts:
2 5-ounce cans good-quality tuna, preferably wild-caught, such as Wild Planet
3 tablespoons olive oil mayonnaise
1 hard-boiled egg, chopped
1 tablespoon capers, chopped
1 tablespoon finely chopped Italian parsley
Lemon juice, to taste
Kosher salt and freshly ground black pepper
4 slices baguette, toasted
Grated Parmesan cheese, to taste
Instructions
For the mayonnaise, whisk the egg yolk, lemon juice, Dijon mustard, cider vinegar, and a pinch of salt in a medium-sized bowl.
Using a handheld mixer on medium speed, mix the egg yolk mixture while slowly adding 1/4 cup of the olive oil, drop by drop, until the mixture becomes light and thick (this can take a couple of minutes). After adding the initial 1/4 cup of olive oil, the mayonnaise should be stable and emulsified; add the remaining olive oil and canola oil in a slow, steady stream until it is thick and fluffy. Season with salt and pepper to taste. (This will make more mayonnaise than you need; the remainder can be kept refrigerated for 1 week.)
For the tuna melts, heat the broiler. Drain the tuna and thoroughly pat dry. Combine tuna, 3 tablespoons of the mayonnaise, egg, capers, and parsley. Season with lemon juice, salt, and pepper to taste. Divide tuna salad among the four bread slices. Top with shredded Parmesan and run under the broiler for 1 to 4 minutes, or until the cheese is melted and golden-brown.
Notes
This recipe makes more mayonnaise than the tuna melt recipe calls for. Any extra can be stored in the refrigerator for 1 week. Use for making just about anything taste better!